ReBoot Java Games
---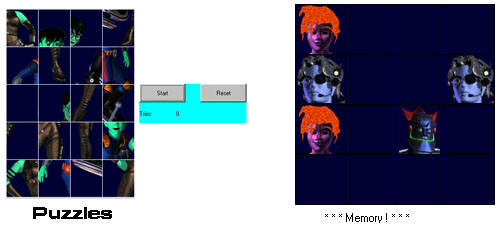 To play the Puzzle game with Dot and Enzo as the piecesClick here
To play the Puzzle game with Bob as the piecesClick here
To play the Memory game Click here


To play the Pong game Click here

---
Back to the read-only Room page.
---
I know my Read Only Memory pages aren't the best. I'll try to make them better. Credits: Memory, Puzzle and Pong
ReBoot images, sounds and its related characters are owned and copyrighted by Mainframe Entertainment Inc. I don't work for Mainframe Entertainment Inc. And I have anything to do with the production of the show. This site is made for fans by a Big ReBoot Fan. I am not making any profit off this web page. No copyright infringement is intended.